There are several ways to dial into a Skype for Business meeting with a video teleconferencing endpoint.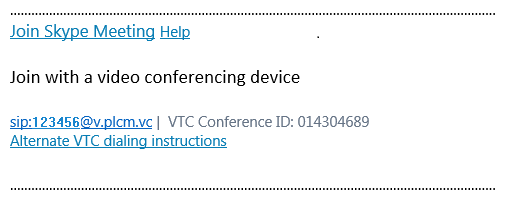 Enter the highlighted number in the invite. In the example, it is sip:123456@v.plcm.vc.
When using this method, you must enter the VTC Conference ID when you enter the call. In the example, the VTC Conference ID is 014304689.
Click the Alternate VTC dialing instructions to view the list of direct dial options.
Note: When using the direct dial option, you will not be prompted for the VTC conference ID when you join the call.
Ask your IT department if they have configured a speed dial entry. Speed dial entries assist in making calls to frequently dialed numbers.