Poly has officially rolled out the Poly RealConnect Tenant Report, a portal to view live and historical data of the tenant's service usage, for all RealConnect Service subscribers.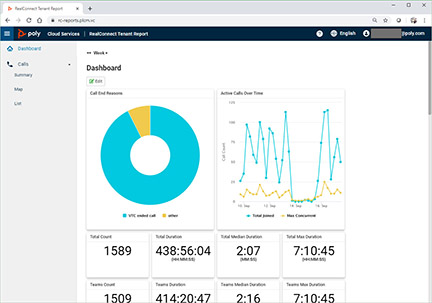 The RealConnect Tenant Report provides administrators with a variety of datapoints and trend data that delivers valuable insights for ROI analysis, troubleshooting, and license renewals. In essence, this portal removes the guesswork and equips the Admin with analytics for more precise, data-driven decisions.
You can read more about the type of information available on the RealConnect Tenant Report via the RealConnect online documentation (select Tenant Report on the left navigation panel).
The RealConnect Tenant Report is available to all RealConnect Service subscriber tenants. To access the report, a user must have a Poly Cloud Service (PCS) user account with a Device Operator role. See Add a New User.