Meeting Expiration

A Microsoft Teams meeting URL will never stop working. However, Microsoft imposes an expiry to CVI coordinates, PSTN dial-in numbers, and other meeting policies or settings, as described in the table below.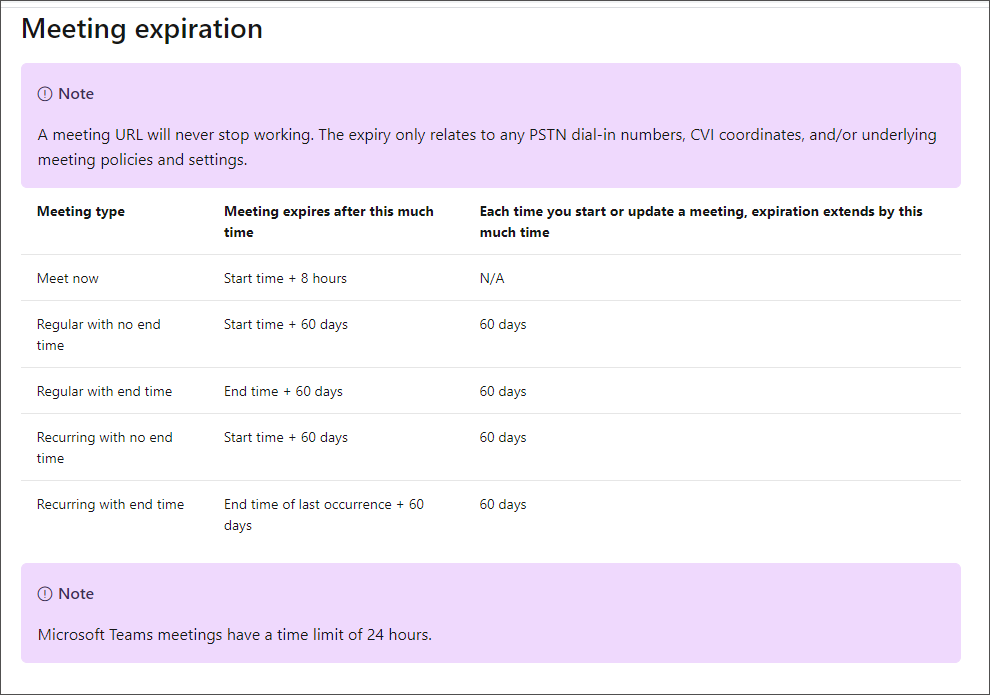 Note: For additional information on Microsoft Teams meeting expiration, see https://docs.microsoft.com/en-us/microsoftteams/limits-specifications-teams#meeting-expiration
If you use a meeting URL that comes from an expired meeting, the RC-Reports call termination reports Meeting not found.
The Teams meeting details will also not give any indication of the expiration. However, when you view the meeting details from an active Teams meeting (from a client that joined via the meeting URL) you can see the coordinates have expired by comparing the audio dial-in information.
There will be two sets (audio dial-in information) in the call.
One from the original invite, seen in the Outlook invite (which are also expired)

The second set that work (see the graphic below):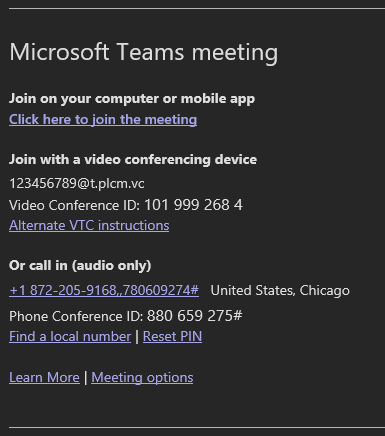 Meeting Icons

In calls from VTCs into a Teams meeting, the RealConnect service displays icons to meeting participants. VTC participants can't actively select the icons, but can view if a participant with a Teams client selects one of the icons.

Note: The Muted icon indicates that a Teams client participant has muted a VTC participant. The VTC participant can select #6 to unmute, but must use the endpoint's functionality to mute again.

The RealConnect service displays the following icons in a Teams meeting.

Meeting Icons
| Icon | Description |
| --- | --- |
| | Recording |
| | Transcription |
| | Hand raised |
| | People in lobby |
| | Muted |
Number of Participants

RealConnect displays the number of participants in a Teams meeting in increments of 10, for example, 10+, 20+, 30+ or more. When a meeting has fewer than 10 participants, RealConnect displays the participant count that Microsoft provides.